Reading Time:
4
minutes
On the 24th and 25th of September, I attended the UK Space Conference at the International Convention Centre in Newport, Wales. The conference is the UK space sector's biennial meetup, taking place in a different city each time and the last one in 2017 having been in Manchester.
The conference has two main areas: a set of rooms and auditoria for talks, and a large exhibition hall where companies and organisations setup stands to show off what they do. Talks include a wide range of topics, from space engineering to planetary science, space policy and more. Exhibition stands ranged from small startups like Raptor Aerospace right up to huge multinationals like Lockheed Martin and the European Space Agency.
the UK Space Conference always offers opportunities to discover new companies
I originally planned to attend all three days of the conference, with the first day being dedicated to showcasing my time as a SPINtern at Lockheed Martin and my second day spent volunteering with UKSEDS as one of the conference staff, looking after registration. The third day would then be a free day as a thank you from the organisers for volunteering, but in the end I was too tired to do the final day and had already got everything I wanted out of the conference.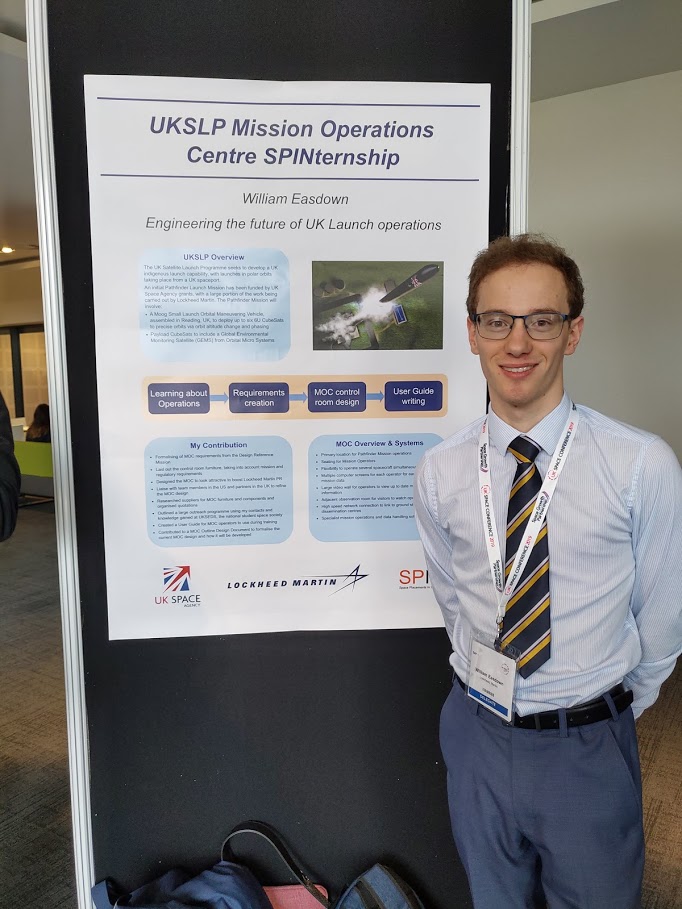 I started day one by putting up my poster about my time at Lockheed Martin. I spent eight weeks at their Harwell office over the summer under the UK Space Agency's Space Placements In Industry (SPIN) scheme, run by Kathie Bowden. I worked on the design of the Mission Operations Centre for the UK Satellite Launch Programme (UKSLP). This involved determining requirements, liaising with colleagues in the US and partners in the UK, and creating documentation to help both Lockheed staff and satellite operators understand how the MOC will work. It was a really great eight weeks and good fun getting stuck in to some space engineering on a really cutting edge project.
The SPINterns then assembled to each give a two minute presentation on what we had been doing during our eight weeks. Topics ranged from studying Mars' atmosphere to designing deployable structures for CubeSats, with all of the internships sounding really interesting and valuable for their interns. I was also impressed by the quality of the presentations in front of a group of around 40 interns and visitors.
Later in the day, I presented my poster, with interest mostly coming from the fellow SPINterns but some other visitors also asking me about what I'd been working on. I then spent a few hours exploring the exhibition hall, on the search for interesting companies who could offer me a job after I finish my Master's at Cranfield University in September 2020. Many of the usual suspects were in attendance, but the UK Space Conference always offers opportunities to discover new companies too. I handed out several business cards and made some useful contacts for my future job search.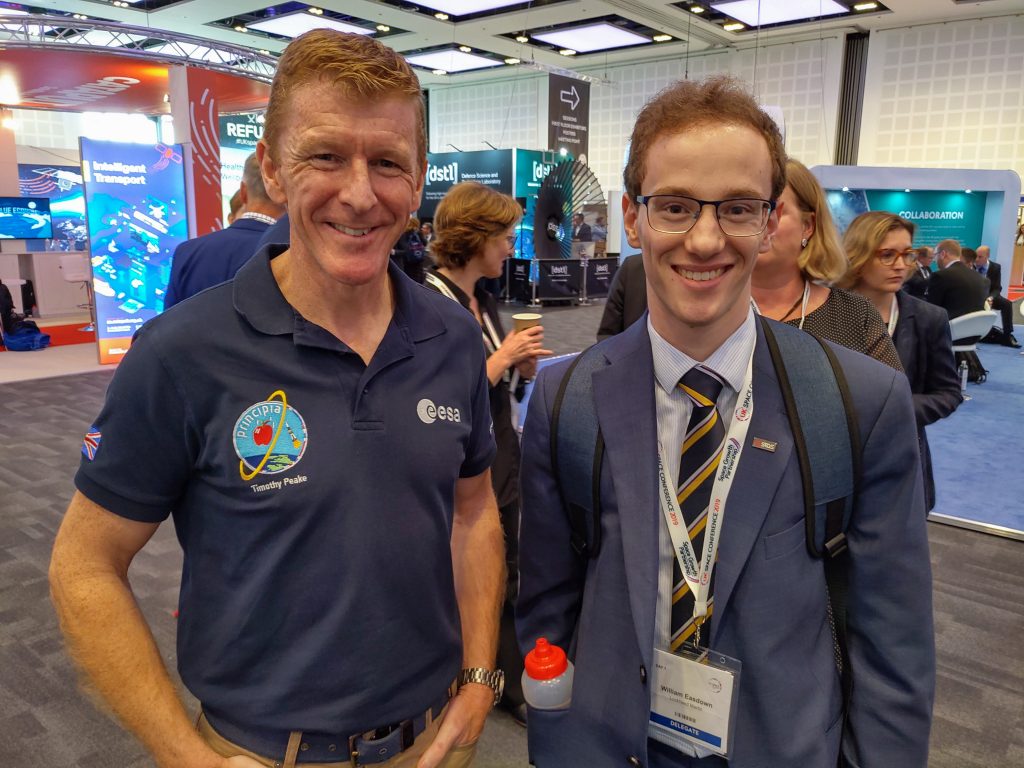 A real highlight of day one though was meeting and getting a picture with Tim Peake, the UK's first European Space Agency astronaut. It was an honour to meet someone who has both taken UK exploration to new heights and inspired a whole generation to take an interest in space.
The first day finished with a plenary, chaired by Prof. Carole Mundell, Chief Scientific Adviser to the Foreign and Commonwealth Office, and with guests Dr. Megan Clark, head of the Australian Space Agency; Johann-Dietrich 'Jan' Wörner, Director General of the European Space Agency; Stephen Eisele, Vice President of Business Development at Virgin Orbit; and Wu Yanhua, Vice Administrator of the Chinese National Space Administration. It was really interesting to see such a wide range of organisations represented, and to hear their thoughts on future opportunities and challenges in the space sector.
The first half of day two was spent in the exhibition hall again, visiting companies I hadn't spoken to the day before. Of particular interest were space debris removal company Astroscale and robotics company MDA, both of which have offices on the Harwell Campus in Oxfordshire. Astroscale's ELSA-d mission, shown in the video below, will demonstrate spacecraft rendezvous and docking under a variety of conditions as part of their work to provide a space debris de-orbiting service.
In the latter half of the second day, I donned my conference staff T-shirt and volunteered at the registration desk, getting delegates scanned in, pointing them in the direction of talks and exhibition hall, and giving them their complimentary conference bag. It was good to see the conference more from the inside and I was pleased to see that the UKSEDS volunteers and wider staff kept everything running very smoothly.
Overall then, the UK Space Conference was a really valuable opportunity to present my work and to network with a huge range of companies and organisations as part of my job hunt for once I've finished my Master's. Plus I met an amazing astronaut! My only sadness is that the conference is not more affordable for young people – with a student pass being £180 for one day or £360 for all three, I could not have attended if had I not been representing the SPIN programme and volunteering with UKSEDS, and I'm sure this priced out many students from this very useful experience.